Sourdough Pastry, Available at 8am
Croissant 5
Pain au Chocolat 6
Cheese Danish 5
Ham & Cheddar Danish 7
Nutella Turnover 6
Cardamon Bun 4
Sourdough Bread, Available at 9:30am
All of our bread is made with our sourdough starter and organic flour. We hand mix our dough and everything is made by hand in small batches from scratch.
Country 9
Country Pullman 13
Whole Grain 9
Rye with Caraway & Dill 10
Semolina 11
White 12
Date & Walnut 13
Focaccia 7
Ciabatta 6
Baguette 4
Burger Bun 1.5
Gluten Free Pan Loaf 9
Pizza Dough 5
55700 29 Palms Highway
Yucca Valley, CA 92284
Monday, Closed
Tuesday, Closed
Wednesday, Closed
Thursday, 8 - 2pm
Friday, 8 - 2pm
Saturday, 8 - 2pm
Sunday, 8 - 2pm
Sweet & Savory
Sourdough Cinnamon Rolls 6
Chocolate Banana Bread 5
Apple Muffin 5
Lemon Tart 4
Seasonal Tart 5
English Cheddar & Green Onion Scone 5
Coconut Macaroon (GF) 4
Oatmeal Raisin Cookie 2.5
Almond Cookie (GF) 3
Carrot Cake 7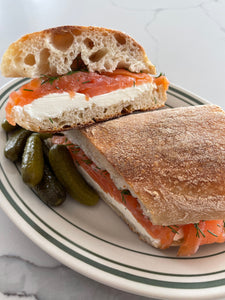 Sandwiches, Available at 9am
Salami Provolone, house made Giardiniera, Red Leaf and Grain Mustard Dressing 15
Smoked Salmon Cream Cheese, Dill & Caper on Ciabatta 16
Ham & Brie with Cornichon on Ciabatta 14
Prosciutto & Goat Cheese with Arugula & Fig Jam on Ciabatta 16
Heirloom Tomato House Mayo, Romaine, Basil, Dill and Crispy Shallot on Focaccia 14 sub Vegan Mayo for 1
Ham & Cheese with Mayo on our Sourdough Burger Bun 9
Almond Butter & Jam on our Sourdough Burger Bun 6
Flatbreads & Salads
Mushroom, Garlic & Thyme Mozzarella, Olive Oil 9
Broccolini & Ricotta Lemon, Garlic, Parmesan, Chili 9
Potato Salad Carrots, Peas, Dill, Mayonaise Dressing 8
Farro Salad Tomato, Feta, Lemon, Parsley 8
Kale, Napa & Purple Cabbage Raisin, Cranberry, Toasted Walnuts, Orange Vinaigrette 6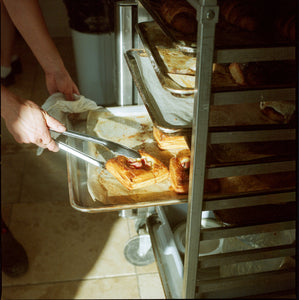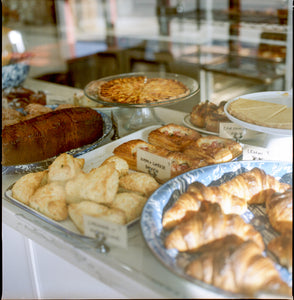 Catering
Our entire menu is available for catering, pick up only. All orders are subject to a service fee. Certain items are subject to seasonality and availability. Please reach out to info@lunasourdough.com for more details. We look forward to helping you with your event!